Microsoft Word Problems - Don't panic we can help you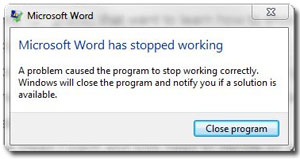 There are a variety of Microsoft Word program and document problems across all versions of Microsoft Word, 2003, 2007, 2010, 2013, 2016 and 365. Some of these are issues that have always been problems in Word and some of them are new.
It is not always the case that MS Word itself is the problem, but often we find that there are external factors at play, like:
computer settings
document version problems
macro issues
corrupt documents, downloads or files
other programs blocking resources and services Word uses
add-in problems
user error
That being said there are a variety of issues within Word we routinely see that cause a wide variety of irritating problems especially:
Dictionary and Language issues
Macro problems
Paragraph styling issues
Word not installing, or repairing
Word not responding, or not opening
Word running in safe-mode
Problems with Normal.dotm and Normal.dot templates
Emailed document version problems
licensing and activation errors
update problems
lost documents
printing and layout problems

Get It Fixed aims to have your Word documents back up and running as soon as possible. We deal with Word errors all the time and we have solved an enormous range of Microsoft Word problems for our existing home and small business clients. You won't need to waste hours and hours trying to get to the bottom of it.

Fill in the form, or call us on (02) 9967-5306.