Windows 10 Update Assistant Error 'Not Enough Disk Space' on Laptops with 32Gb or 64Gb SSD drives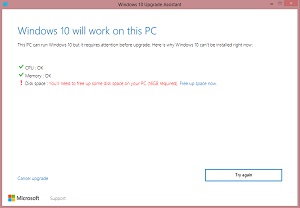 Are you having problems updating to the latest version of Windows 10? Does the Windows 10 update assistant, or another update service for windows 10 show that you do not have enough disk space?
This issue is quite prevalent on laptops with very small solid state drives (SSD) with a capacity of only 32Gb or 64Gb. Some windows 10 feature updates, anniversary updates and creator updates require enough space to be available on the laptop SSD to download, unpack and install the update files. This could be from 4Gb to 8Gb or even 16Gb depending upon the system and the update required.
Your computer system will be adapted to allow it to be updated properly. Your system is backed up and then modified to allow the system to update normally and then returned to its original state, except with the windows update successfully installed.
The causes of the problem are:
Insufficient space on the system drive (C:)
Small 32Gb or 64Gb SSD drive on the laptop creating capacity problems
Upfront Quote
We are upfront about all pricing. fill in the form and we will give you a quote upfront.
We pick up your laptop from you and drop it back
Where ever you are in Sydney we can come to you and pick up your computer and take it to our Computer Service centre to solve the update problem. Our team of Laptop service specialists will assess the problem, put their heads together and implement a solution. Our Laptop problem solvers have years of experience in all versions of windows and windows boot management.
How long will it take?
This is determined by several factors. However, usually it can be done the same day or within 24 hours. Otherwise it will take 1-3 business days. Windows update can take a significant amount of time. Please be aware that this process may take several hours to complete correctly.
Guarantee
If we are unable to solve your problem we don't charge you.
Fill in the form as best you can and we will contact you with the most economical quote to sort out your Windows 10 update problem.