Laptop Gets Hot or Overheating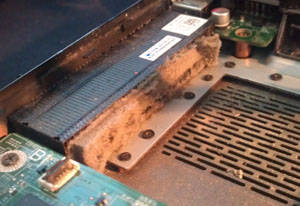 Is your laptop getting to hot to touch? Or is it just switching off after only a few minutes?
Get It Fixed is one of Sydney's most sought after Laptop Servicing companies. Our clients range from mums and dads to corporate executives. We specialise in home and small business assistance. Our business is helping you to solve all your laptop heat related problems and provide you with an quick, trustworthy, reliable and economical service.
Your laptop has some or all of the following problems:
The fan is very loud and doesn't stop
The underside of the laptop is very hot
Hot air is being blasted out of the air vents
No air is coming out of the vents and the laptop is hot
The laptop won't stay on and keeps turning off / crashing
When it is on, the laptop is very slow
You get CPU heat warnings when you power on or are in Windows
The possible causes of the problem are:
The inside of the laptop is very dirty
The fans are not working properly, are jammed or have failed
The air vents are heavily clogged with debris, dust or hair.
The heat sink thermal pads/paste is old and needs replacing
The system is being over clocked (sped up to much)
Upfront Quote
We are upfront about all pricing. fill in the form and we will give you a quote upfront (with certain problems we find that parts may not need replacing so the end price may be lower - this can only be determined when we examine the unit).
We pick up your laptop from you and drop it back
Where ever you are in Sydney we can come to you and pick up your laptop and take it to our Laptop Service centre to solve the problem. Our team of Laptop service specialists will assess the problem, put their heads together and implement a solution. Our Laptop Screen Repair technicians have years of experience in electrical and computer repair.
How long will it take?
This is determined by several factors. However, usually it can be done the same day or within 24 hours. Otherwise it will take 1-3 business days. In cases where parts may be required we will call you and allow you to make a decision on price and whether you wish to continue.
Guarantee
If we are unable to solve your problem we don't charge you. All workmanship and new parts are covered by a 12 month warranty. Refurbished parts are covered by a 3 month warranty.
fill in the form as best you can and we will contact you with the most economical quote for your Laptop service: