Computer problem solving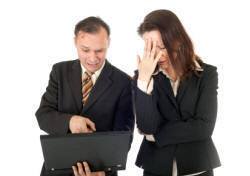 Sometimes an error just does not make sense, or your computer is running slow even though you've checked everything you can think of. It won't boot up or even shutdown! Word, Excel or Outlook start to do crazy things and strange messages and pop ups start appearing. You need someone technical to assist you in finding the problem and providing a fast, affordable solution.
Computers (desktops, laptops, notebooks and netbooks) are a minefield of different software interactions, network connections, upgrades, updates, drivers and a whole host of other Windows XP, Windows Vista, Windows 7, 8 and 10, and computer hardware related configurations which make one machine run differently to another. Unfortunately there is no magic bullet to keep things running smoothly, which leads to problems and errors occurring. One person can not know all there is to know about these complex interactions, you need a team of nerds.
You need people who are comfortable in the environment and who understand why certain things occur in a computer operating system, email software, internet browser and boot up processes. You need maintenance people who think outside the box and try techniques and tricks that most others would never even have thought of or considered. You need people who have seen it all before and handle the bizarre computer problems all the time so that when they handle your problem they can provide you with a solution. You need Get It Fixed.
We specialise in computer problem solving. A lot of our customers have been all over Sydney trying to get help and no-one knows what to do. Well we are so confident that we can help you that in the unlikely event that we can't solve your problem with your laptop or desktop computer we will not charge you a single cent. Add to that our pick up and drop off service, a team of technicians who will work on your machine, and our affordable rates - you just can't go wrong.
We also offer an ongoing maintenance and service to keep your computer running smoothly (if you need it). Give us a go and you won't be sorry, just call (02) 9967 5306 or Fill in the form on this page.